Description
Silagra Online USA
Silagra, a Sildenafil citrate oral tablet manufactured by Cipla limited is a brand prescribed for the treatment of erectile dysfunction in men.
It comes in different strengths such as Silagra 100 mg and Silagra 150 mg oral pills prescribed based on the severity and symptoms of the problems with the erectile functions that a man is facing.
With an onset duration of an average span of 60 minutes, each pill of Silagra oral works for 4 hours. It interacts with alcohol and grapefruit juice, and its major medicinal interactions include nitroglycerine, nitrates, and other PDE5 inhibiting drugs.
It aids the blood circulation in the body and works in combination with sexual arousal for men as a treatment of erectile dysfunction caused as a result of poor blood circulation.
The Silagra oral tablets are not indicated to be utilized by individuals who have severe heart diseases and some of its side effects include lowering down of blood pressure and headache.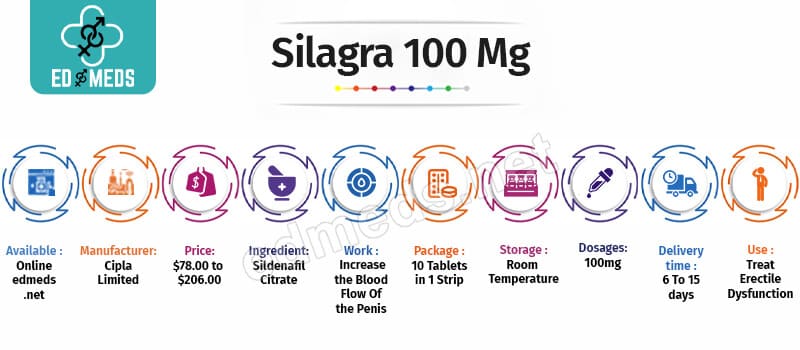 What are the Side Effects of Silagra
Headache
Stuffed Nose
Priapism
Sneezing Spells
Loss of Vision Loss
Blurry Vision
Blue-tinted Vision
Dizziness
Backache