Description
What is Vilitra 20 medication?
Centurion Laboratories produced many different types of medications and one of them is Vilitra, a brand of Vardenafil prescribed for the treatment of erectile dysfunction in men.
The brand Vilitra of the PDE5 inhibiting drug Vardenafil offers many different strengths of this drug, one of which is 20 mg, and it is available in the market as Vilitra 20 mg oral pill.
This medication blocks the PDE5 enzyme, and assists the production of nitric oxide in the body, and gives relief from the symptoms of erectile failure for a brief period of time.
What is the use of Vilitra 20 medicine?
The dosage Vilitra 20 mg medication is useful for promoting blood circulation, and for the expansion of the blood vessels, and it is a prescribed remedy for the treatment of erectile dysfunction in men administered through the oral route.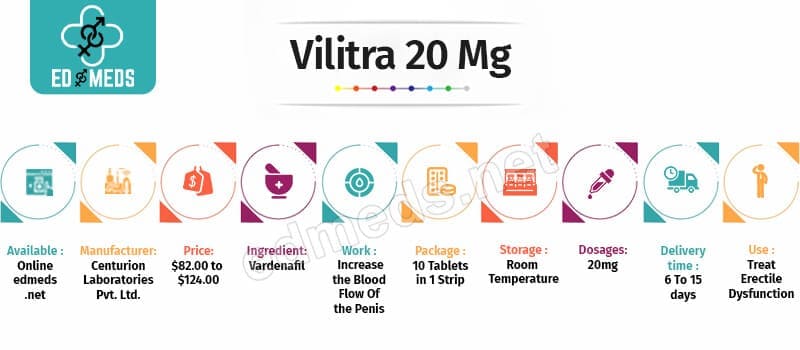 How does Vilitra 20 medicine work?
Vilitra 20 mg, as an oral tablet, has to be ingested with some water, and then the drug present in the oral tablet will break down and then the atoms of the drug Vardenafil will take their own time to become active, which can happen within 10 minutes but there are times when it can take more time.
After the Vardenafil drug present in the oral tablet of Vilitra 20 mg enters its active state, the drug will stay in this stage for up to 5 hours. During these 5 hours, it will work against the PDE5 enzyme in the body and boosts the production of nitric oxide.
The nitric oxide that is produced as a result of this process expands the blood vessels as it is a vasodilator, and thus the blood vessels that surround the penile shaft of a male body are also expanded.
When a man experiences direct touch or another type of sexual stimulation, the brain leads the flow of blood towards the male sexual organ, which now is lined by expanded blood vessels. The expansion allows a larger quantity of blood to fill in the blood vessels which makes the penis become erect, which can be identified as a successful penile erection.
This process of treating erectile dysfunction symptoms with the help of Vilitra 20 mg oral pill can only happen if there is adequate sexual stimulation, otherwise, the drug will not induce erections in its active stage.
How to take a Vilitra 20 oral pill?
You will get Vilitra 20 mg oral pill in the form of a tablet, which you have to remove from the plastic cover or strip and take only a single dosage at one time, with some water.
If you want to repeat the dosage of Vilitra 20 mg oral, a gap of a minimum of 24 hours is mandatory to be maintained, and you should not take them on consecutive days as the drug Vardenafil is not recommended for daily use when it is used as a treatment of erectile dysfunction in men.
Also, the medication Vilitra 20 mg oral pill must be taken immediately upon removing it from the plastic coating to ensure that it does not break into pieces so that the strength of the drug present in it remains unimpaired.
How long does one pill of Vilitra 20 last?
The Vardenafil drug has the potential to last for an average of 5 hours, irrespective of the strength of the drug in a pill, so it is safe to say that a single pill of Vilitra 20 will last for 5 hours in its active stage.
But first, the drug Vardenafil present in the Vilitra 20 mg will have to complete its activation stage successfully to enter its active state.
How long does one dosage of Vilitra 20 take to work?
There are times when the drug Vardenafil has been observed to finish its onset period in as less as 10 minutes, but it differs from one person to another, based on factors such as the meals taken with it and the ability of the body to absorb the drug in the tablet.
Usually, Vilitra 20 mg oral pill will take about 10 -45 minutes to successfully complete its onset period, and if you want to ensure that the drug Vardenafil is active in your body when you initiate lovemaking with your partner, then you should take the Vilitra 20 pill about an hour prior to the act, especially if you are using the pill for the first time.
Is Vilitra 20 the same as Viagra?
No, Vilitra 20 mg and Viagra both are brands of a PDE5 inhibiting drug, but the drugs are different, as the Vilitra 20 mg oral pill is a dosage of Vilitra containing Vardenafil while the Viagra is the brand of Sildenafil citrate that can come in different dosages of this drug. Also, the former is a generic brand, available at fraction of the price of the latter brand.
What are the side effects of the Vilitra 20 oral pill?
Blue-tinted Vision
Ringing in ears
Laboured breathing
Upset stomach
Hives
Flushing
Blurred vision
Hoarseness
Difficulty in swallowing
Sudden decrease or loss of hearing
Swollen feet and ankles
Fainting
Heartburn
Flu-like symptoms
Headache
Abrupt loss of vision
Priapism (erection that remains longer than 4 hours)
Runny nose
Dizziness
Ringing in ears
Rash
Night blindness
These side-effects of Vardenafil may exhibit themselves in a mild form, but if they are rare, you should seek medical help. Use this list as a reference guide and take specific medical advice regarding the side effects of Vardenafil from your doctor before you begin the use of the Vilitra 20 mg oral pill.
What are the Medicinal Interactions of Vilitra 20 medicine?
Metformin
Lisinopril
Rosuvastatin
Gabapentin
Omega-3 polyunsaturated fatty acids
Losartan
Aspirin
Trazodone
Cholecalciferol
Tramadol
Nexium
Omeprazole
Sildenafil
Simvastatin
Avanafil
Atorvastatin
Tadalafil
Amlodipine
Hydrochlorothiazide
This reference guide will help you in identifying the medications and drugs that interact with the Vilitra 20 mg oral tablet and if you are not sure regarding the medicinal interactions of Vardenafil, you may contact your doctor to get further information on the same subject.
Your doctor will need you to disclose all the over-the-counter medications, herbs, and even recreational drugs that you may be used to make sure that you do not suffer from a severe medical interaction after making use of this Vardenafil medication.
What are the food interactions of the Vilitra 20 oral pill?
Grapefruit juice and alcoholic beverages make the symptoms of the possible side-effects worse and fatty meals delay the onset of the drug Vardenafil and thus should not be consumed along with Vilitra 20 oral pill.
What are the warnings & precautions for the Vilitra 20 oral pill?
Vilitra 20 mg oral pill is only meant for use as and when required for the treatment of erectile dysfunction and it should not be used on a daily basis.
The drug Vardenafil may not be suitable for people with severe heart conditions, so if you have a history of heart conditions, Vilitra 20 mg oral pill may not be the right treatment for you, and your doctor may guide you towards alternative treatments of erectile dysfunction.
Where can I buy Vilitra 20?
All the leading pharmacy stores have a stock of Vilitra 20 mg oral pill, and you can even choose to buy Vilitra 20 mg online from online pharmacy stores. Buying online is more convenient, regardless of the medication that you buy as it offers better prices, more convenient shopping hours, and even quick deliveries in various locations.