Description
Buy Extra Super Avana Online
Extra Super Avana is a generic pill produced by Sunrise Remedies Private Limited, and it is useful as an oral treatment of two different sexual dysfunctions, one is erectile dysfunction and the other is premature ejaculation.
The active ingredients of every single Extra Super Avana pill include 200 mg of Avanafil and 60 mg of Dapoxetine oral drug.
The Avanafil 200 mg promotes healthy blood circulation in the body being a PDE5 inhibiting drug, which in combination with sexual arousal, promotes the occurrence of healthy erections.
The presence of the drug Dapoxetine 60 mg ensures that the pleasure that a person receives while having sexual intercourse with the partner is slightly delayed so that the man can last longer in bed.
The entire pill (Avanafil 200 mg + Dapoxetine 60 mg) stays effective for the treatment of both these sexual dysfunctions for about 6 hours after taking about 20 minutes for successfully completing its onset.
This combination pill is not to be used with other medications containing PDE5 inhibiting drugs and Dapoxetine to prevent severe side effects and the risk of a drug overdose.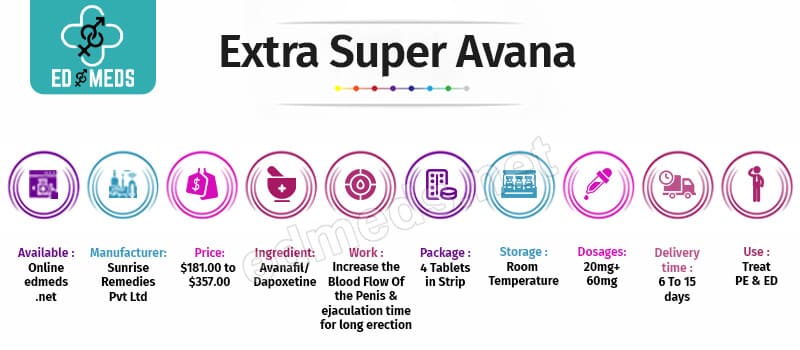 What are the Side Effects of Extra Super Avana
Hives
Irregular heartbeat
Headache
Breathing Problems
Nausea
Irregular heartbeat
Sleepiness